I AM MY BODYGUARD is a global foundation dedicated to giving all children and Women the ability to protect themselves against all types of violence including gender-based sexual violence.
GIVE ALL CHILDREN AND WOMEN A FIGHTING CHANCE
The catalyst for the creation of the foundation I AM MY BODYGUARD occurred through a chance meeting on a social platform between the co-founder Eunice Nuna, herself a victim of sexual violence, and the CEO of Excel Security Solutions AG, James Otigbah.
Eunice went through a traumatic life experience at a very young age (Click to read her life story). This experience began the journey of her addressing sexual violence by becoming a wounded healer, a person who creates awareness, advocates for prevention and provides holistic care for survivors of sexual violence and children born out of rape. Eunice is the founder of Wounded Healer, a foundation based in Nairobi, Kenya.
To use experiential training as an impetus for empowering all children and women to be more aware, assertive and proactive in protecting themselves against gender-based sexual violence.
Our vision is to equip every woman and child with the life skills to protect themselves.
Violence against women and children is a major public health problem worldwide and a pervasive social problem that transcends socio-cultural boundaries and has myriad bio-psycho-social effects on victims, survivors and the wider community. Survivors of violence suffer the effects of assault all their lives.
This is an account of the event's that shaped my life and helped conceptualize the idea behind I Am My Bodyguard.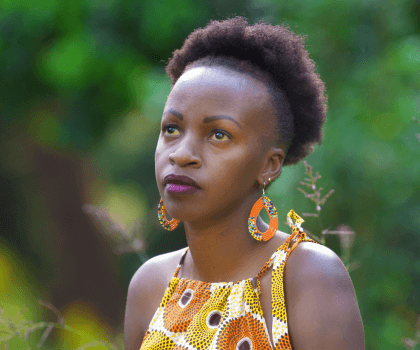 My name is Eunice. As a child I suffered the impact of living in extreme poverty, worsened by my parent's arguments which would escalate to violence. Throughout my teens and in my early twenties as a result of trauma, my mental health and well-being was left in near darkness and this would greatly influence my view of the world.
I left high school with strong grades, but sadly they were overshadowed by my own growing struggles of shame and guilty. At 18 years, I dreamt of going to college, but the society in which I lived then had other expectations. It was expected of me to do menial jobs to eke a living. Hence, I came to the city of lights — Nairobi in search of a better life and ended up drugged and raped on my first night by someone I trusted. As a result, I was pregnant.
If only we could hold pain in the palms of our hands and wash it clean with soap and water. The abuse left me degraded, abandoned and excluded and feelings of guilt overwhelmed me. Add vinegar to an open wound, there was the stigma to contend with. In the throes of shame and guilt, I considered and almost had an abortion, if it were not for God's still voice, "this child is a blessing".
Believing that there was no hope for the future, I was forced to look deep within myself and this is when my life began to change. I started to accept that I needed help in sharing my trauma and becoming a loving mother to my son. I began dreaming of supporting survivors of sexual violence and helping them see beauty in their brokenness.
I raised my child in the slums and washed people's laundry to earn a living. By God's grace I was supported by well-wishers to pursue higher education. After I was through with my bachelor's program in Counseling Psychology, I began to explore different opportunities that could lead to healing for other wounded people like me.
In my first employment I worked as a social worker providing counseling and preventive services for high-risk drug users to prevent transmission of blood-borne infection, with an international organization that supported people who inject drugs. I realized that I was passionate about helping women and when I would share my story, it was with the hope of transforming their lives and more women opened up about experiencing abuse. The simple act of speaking about my life helped me to overcome shame.
To reach more women, I founded Wounded Healer Foundation to give the wounded like me hope for a better future. Today I share my life with girls and women who are hurting like I did. I welcome them in my world and assure them even though they face challenges they are not alone and they can be victorious again.  My goal is to walk with wounded people, caring for their hearts and equipping them with tools to find God's purpose for their pain.
All over the world many young children and adolescents leave home to find work in the capital cities or towns without the appropriate life skills. In many cases they may be naive, illiterate and inexperienced. They are often victims of sexual abuse and other forms of violence.
The girls in many cases fall pregnant and end up on the street, exposed to the worst dangers to themselves and their unborn child.  
Sexual violence transcends racial, economic, social and geographical lines. More often we see violence directed at the most vulnerable members of our society. Adolescents and women, in particular, experience abuses in many forms such as domestic violence, sexual violence-rape, sexual assault and sexual abuse.
We recognize our struggle in the struggle of others. Solidarity is our key value of growing together to achieve transformation. We truly believe that only by unifying opinions, feelings, purpose and interests among the people we work with, are we able to make this change possible.
We aspire to live to the highest standards of personal honesty and behavior; we never compromise our reputation and always act in the best interests of the communities we serve. We build relationships based on trust.
We demonstrate respect for one another, our partners, and the people we serve in the communities. We recognize and acknowledge the strength that comes from diversity. We value all people equally and treat others as we would like to be treated.
We take personal responsibility for using our resources efficiently, achieving measurable results, and being accountable to supporters, partners and, most of all, the community we serve.
In 2013, Excel Security Solutions worked under the supervision of counselors and children psychologists of an international non-profit organization — Innocence in Danger (IID) – to develop a workshop specifically targeting children who had been sexually abused, to help them regain their confidence; this was the beginning of the initial I Am My Bodyguard workshop.
With the success of the initial I Am My Bodyguard workshop for children, Excel Security Solutions decided to develop a course specifically for some of the victims' mothers, who were too often also victims of abuse. This program was named Fight Like a Girl!
Over time, Excel Security Solutions has split the initial I Am My Bodyguard program into several age-appropriate workshops; covering children in the age-range of 6 to 16 years. The overall name of these workshops is still I Am My Bodyguard; they are continuously further developed and can be adapted to specific requests and environments. 
YEARS IN THE MAKING
Over the years Excel Security Solutions has trained thousands of children and women on personal security and safety awareness in Switzerland and in other countries.
Today, we offer I Am My Bodyguard and Fight Like a Girl as prevention workshops to the general public, youth clubs and local and international schools in Switzerland and around the world.
Innocence in Danger (IID) is part of an international network of organizations that works for the protection of children.
I Am My Bodyguard Foundation aims to offer both workshops to as many children and women as possible. Please be part of it.